GET 10% OFF ANY product purchase at Curl Kit Shop! Hit the link below!
http://curlkitshop.refr.cc/TR98DS7
For those of you who are looking for a natural gel or a flax seed recipe, I have listed one below that you may desire to try!
Ingredients:
1/2 a Cup of Flaxseeds
6 Cups of Water
1/2 Tablespoon of marshmallow root for a level 3 hold (or up to 2 tablespoons for a level 10 hold)
Optional:
1/8 Teaspoon of Lemon
1/4 Teaspoon of Honey
1 Tablespoon of coconut oil (mix very, very well to avoid clumping when it is cold)
1/2 Tablespoon of Aloe Gel
1 Tea Bag of Green Tea
Directions: (will take anywhere from 7 minutes to 12 minutes)
Information illustrated by:
http://www.wikihow.com/Make-Flaxseed-Hair-Gel
Steps
1

Assemble the "Things You'll Need". These are listed below.

Ad
1

Soak the flaxseeds overnight. This increases gel yield, increases ease of straining, and reduces cooking time. (This step is optional.)

2

Combine the flaxseeds and water in a pan over high heat, stirring occasionally. Add Epsom salts, although this is also optional.

3

Stir gently and constantly when the mixture starts to boil. Reduce the heat to medium when the mixture's consistency turns into a thin, foamy jelly.

4

When the seeds remain suspended in the jelly instead of sinking to the bottom of the pan, turn off the heat and drain the mixture through the strainer into the bowl.

Note: Rinse the pot immediately, as cleaning it later will be difficult if you don't do this.

5

Add a preservative after the mixture has cooled slightly (optional). Add any desired ingredients, such as essential oils, aloe vera gel, oils, and butters.

6

Whisk the mixture to combine ingredients and break up any clumps. The gel should be about the consistency of egg whites.

7

Pour the mixture into the container. Your gel is ready to use. Store in the refrigerator for maximum shelf life.
This recipe will last approximately two weeks, if left in the refrigerator and a few more weeks if you add preservatives.
If you choose not to make your own and would like an off-the-shelf alternative, try Shea Moisture Hisbuscus and Coconut Curling Souffle!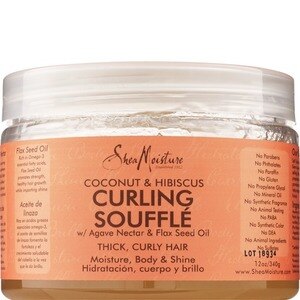 I hope you enjoyed this recipe! Please comment, subscribe, or leave your favorite hair recipe to be included on this blog!
©
Copyright 2014-1-06 Crowning Glory Coils and Kinks - All Rights Reserved