8 fl. oz at Walmart for $8.47
GET 10% OFF ANY product purchase at Curl Kit Shop! Hit the link below!
http://curlkitshop.refr.cc/TR98DS7
This is a brief product review on Eden's Body Works Natural Leave-In Conditioner. I've been using this product for the last week and am pleasantly happy with it. My hair texture is 3c/4a and my hair particular hair type.
Product Description:
Daily conditioning treatment formulated with one of nature's best moisturizers, Coconut Oil, to penetrate and revitalize tresses. Blended with Shea butter to seal in moisture. Sulfate free formula is safe for color treated, chemically treated, curly, or straight hair.
Ingredients:
Water (Aqua), Aloe Barbadensis (Aloe Vera) Leaf Juice, Cocos Nucifera (Coconut) Oil, Simmondsia Chinensis (Jojoba) Seed Oil, Carthamus Tinctorius (Safflower) Seed Oil, Persea Gratissima (Avocado) Oil, Polyquaternium-37, Tocopheryl Acetate (Vitamin E), Dicaprylate/Dicaprate, PEG-50 Shea Butter, Glycerin, Cetrimonium Chloride, Hydrolyzed Keratin, Panthenyl Hydroxypropyl Steardimonium Chloride, Sodium PCA, Polyquaternium-7, Fragrance (Parfum), PPG-1 Trideceth-6, Dehydroacetic Acid, Benzyl Alcohol
Product Is:
Ingredient Attribute: Cruelty Free
Silicone Free
Paraben Free
Sulfate Free
How to Apply Product:
Apply to freshly shampooed hair for best results. Do not rinse. Use daily as needed.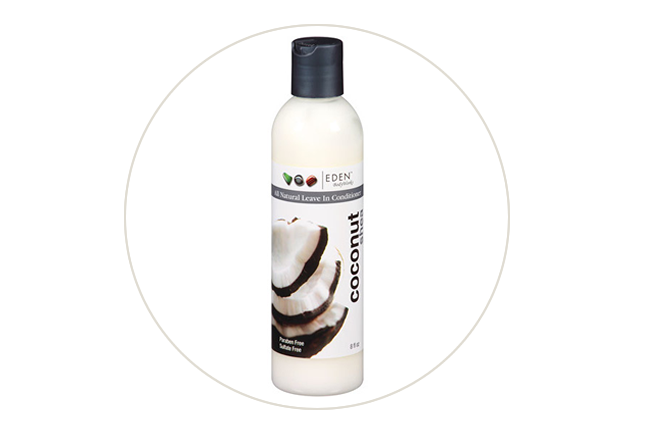 My Experience:
I have applied the product to both freshly washed and second and third day hair with stunning results. The product had great slip and easily detangled my coily, wavy tresses. I was amazed that on, especially wet or damp hair, it took very little of the product to produce soft, vibrant, and bouncy tresses,
It has always been my custom to mist my hair at night and apply a leave-in of one brand or another. Each night I midst hair, make eight sections, apply the leave-in and loosely twist hair to prevent tangling while sleeping, and I cover hair with a clear conditioning cap.
In the Morning:
I take off the clear conditioning cap and shake hair. My tresses are slightly damp and is easily manipulate. So, I'll shape into style and get ready for work. In the winter I will slightly change the routine to prepare hair as noted above but will allow hair to "completely" dry and either wrap hair or cover hair with a scarf for the night.
Pros:
Price Point - A little goes a long way
Can Be Found on the Ground Easily
Fragrance is mild and pleasant
Coconut Oil -- Easily Absorbed in Tresses
Great Moistuizer
Hair Is Beautifully Soft, Shiny, and Bouncy
Has Given Me More "Stretch" to My Strands
Can Replace the Higher Priced "Kinky Curly Knot Today" Leave-In
Cons:
If Too Much is Used; Product Will Cause Hair to Be Sticky
Will I Repurchase?
Yes, I'm very pleased and have already decided to swap out or give away excess products to make room in my cabinet for the complete line of Eden Body Works! My search is over for my Holy Grail products, but that doesn't mean I won't flirt with new ones!
Until next time! Please remember to leave a comment, note, or a description of your experience with Eden Body Works products.
Happy Curls to You!
©
Copyright 2014-09 Crowning Glory Coils and Kinks - All Rights Reserved